The origins of TCB: a truly vintage reproduction as the makers studied a vintage 50s piece TCB got their hands on. They sampled every single detail from shape, yard count, to each seam at each section. With 13.5 oz Zimbabwean cotton, the natural uneven sense is more apparent with the unstable thread thickness and irregular tense that's made from a vintage loom – no tech regulation, all made by hand. Fades start showing with white points appearing as you wear them and they'll get connected as time goes by. Vertical fades with authentic silhouette – high rise with a relaxed fit. Hidden rivets are attached with a special technique to make it even more durable, the leather patch is sewn by hands unto the jeans and will be torn apart as the fades go vertical. Utilizing 4 different colors and 5 different types of yarns, paying close attention to every batch of production, just like the old days. If you look closely at vintage 50s jeans, the seams at the pockets used to be a mess and rough to the eyes. Though this is considered not acceptable in the modern days, TCB tried to keep it real by making it roughly sewn as well through the vintage sewing machine.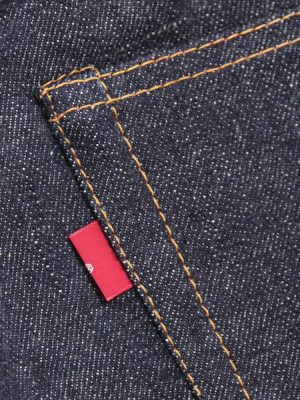 The history goes for these Pre-Shrunk jeans when commercial TV started airing near the late 60s. At this time, jeans is already incorporated into daily wear instead of workwear and started to be worn by various fashion icons of the time in the United States. The silhouette lays on a slim straight cut with strong tapering as the late 60s icon emphasizes more on upper body physique and slimmer from the waist down.
Fluffs of this fabric can not be controlled – the weave quality determines every production batch with the cotton used. With the 60s qualities in mind, TCB decided to use San Joaquin cotton for this edition to get the max fluff out any other kinds of cotton. 13 oz fabrics are produced with warps and wefts at count 7 and won't go further than 13 oz: the yarns are already very slubby and the fabric weight can be unstable every batch.
Another special fact about this piece also goes on to its fastener. TCB Jeans used to use the 42 Talon but since it's now no longer produced, they use the Gripper Zipper. Here's even more reason to get this into your wardrobe: TCB ordered special warps and wefts for this edition that'll produce a lighter indigo color that's caused by the irregular tinge in indigo from the slubby threads. And a fluffy fabric where it'll evolve as your life goes too – in the late 60s jeans like these are worn every day and everywhere causing the fades to be the true fashion essence – art imitating life: dust and stains got on the jeans, oils melted the dark indigo into a lighter one, you name it.
This fabric is an homage to denim brands in the old days when it began using left-hand twill fabrics. A period between 1924 – 1944 is when these are produced for the cowboys so it's durable enough to be worn while riding the horses. Using USA cotton, true to heritage – it's produced to 13 oz weight selvedge denim fabric and woven slowly the reproduce the original intense slub. Both warp and weft thread count is at 7, equipped with grey pre-dyed weft thread so any stains and specks of dust looks out of place – an invention that was made over 50 years ago and still incorporated until this day.